About Us
Holliston Oil Service, Inc. is a full service, third generation family owned and operated business serving the Metrowest area for over 75 years.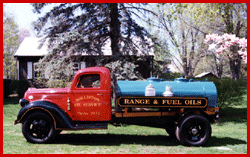 The Company was founded by Joseph Damigella, Jr. in the 1940's and his customer base expanded quickly. Holliston Oil offered excellent work, timely deliveries and very competitive prices. As Joe continued to upgrade his fleet of vehicles his reputation as an honest and hard-working businessman continued to grow as well!
Damigella was very involved with the youth activites and organizations of Holliston. If there was a group that needed a helping hand, he was there . As a result of of his efforts, in 2000, the town field across from Holliston Oil was dedicated to Joe and is now known as "Damigella Field".
Today the company continues to grow and is owned and operated by Joe Damigella's son, Joseph Damigella, III and Grandson, Scott Damigella. From the 1990's through today, Holliston Oil has diversified its product offerings to include on-road and off-road diesel, kerosene and a full line of fuel additives, motor oils and lubricants. Our secure state-of-the-art diesel pumps are available to our customers 24 hours per day. We also install and service a wide variety of heating systems. Through hard work and dedication, Holliston Oil has been transformed into a true full-service energy provider.
Our mission at Hollistion Oil is to always provide our customers with prompt, friendly and reliable service, which includes our 24 hour emergency service 365 days a year. At Holliston Oil we pride ourselves in treating every customer as if they were our number one customer, not just a number.
Customer service is our number one priority!