2018 Rebates for Massachusetts Homeowners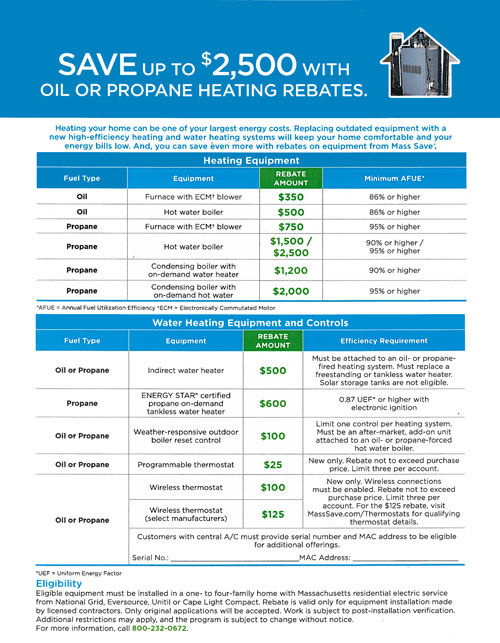 Residential oil and propane rebates from Mass Save® are now available! Rebates offer immediate savings on high-efficiency HVAC equipment that will deliver energy savings for years to come. On the Mass Save website, you will find rebates for oil heat boilers, oil heat furnaces, propane condensing boilers, tankless on-demand water heaters, and more. Don't let your heating bills eat a hole in your household budget.
Find out if your current heating and water heating equipment makes you eligible for high efficiency at a more affordable price. With rebates from Mass Save, you can spend less on new equipment, enjoy consistent home comfort, and benefit from long-term energy savings.
Oil Heating Equipment Rebates
Propane Heating Equipment Rebates
Oil Water Heating Rebates
Propane Water Heating Rebates
More HVAC Rebates
---
Interest-Free Loans from Mass Save
Mass Save works with local energy providers to offer residents, businesses, and communities the services, rebates, incentives, trainings, and information to make energy-efficient upgrades. Find out more about how you can take advantage of 0% interest or financing opportunities and additional income eligible programs.
Mass Save HEAT Loan
To make energy efficiency affordable for Massachusetts residents, Mass Save is buying down interest rates with the 2018 HEAT Loan. Sponsors of Mass Save offer loans of up to $25,000 for qualified applicants. With terms up to 7 years, you could qualify for energy-efficient home improvements depending on your Sponsor and loan provider. View the Heat Loan Eligibility, Loan Options, and Lender List for more details about specific loan offers.
Schedule a Home Energy Assessment today by calling Mass Save at 866-527-7283. If eligible for HEAT Loan financing, a Mass Save representative will contact you about the next steps.
LEARN MORE
---
Mass Save Expanded HEAT Loan
In order to bring down interest rates to make energy efficiency more affordable, the Massachusetts Department of Energy Resources is providing Expanded HEAT Loan offers for a limited time. The Mass Save Expanded HEAT Loan is offered to Massachusetts residents with 0% Interest Loan Options for qualified applicants.
Limited-time options for a 0% Interest HEAT Loan with participating lenders include weatherization upgrades, expanded 2-4 family building loans, and more. Visit the Mass Save website to see if you are eligible for an Expanded HEAT Loan or to find the Mass Save Program Sponsor and HEAT Loan Administrator in your area.
LEARN MORE